To keep a record of changes in my office, I wrote the first post about my office setup in January 2022. It's now 2023 (Happy New Year!) and that means an update!
If you're reading this on mobile, you won't see the picture I keep referring to, so here it is!
Essentials
Keyboard - New Mini Model M

Last year I was typing away on my trusty IBM Model M keyboard. One of the keys cracked the plastic base it sat on. I glued it. As carefully as I could. But it turned out not to be good enough. Like the old Volvo estate car that slid into a water ditch on the side of a dirt track and was unceremoniously dragged out by a tractor, it was never quite the same again. I was heartbroken.
I had been recommended a Keychron K8 tenkeyless keyboard at the end of January 2022, so I tried this, and it worked well for me for almost a year. It is a fantastic keyboard, but at the end I was feeling it was just too small. My typing was becoming more and more error-prone. Maybe that was me, though.
In November 2022, I asked again for keyboard recommendations. The keyboard recommended by Josh King [[t]|[m]|[b]] is the one I blogged about the issues with in 2022, so I initially dismissed it. But that was a mistake, as this was an updated model. I was sceptical, but I purchased it anyway.
It is a remarkable keyboard that's not quite as heavy as the IBM Model M. But it has the same buck spring 'springiness' of the original. It feels solidly built and would take quite a lot of punishment. Furthermore, it's a good blend of the old solid, reliable keyboard and the new USB interface and no adapter / converter to make it work.
If you love the IBM Model M and miss it, this is the keyboard to go for. It's not perfect but it about as good as I'm aware of.
Mic - HyperX Cloud Stinger Core Wireless
I had a personal wired gaming headset that is great and really comfortable. But the wires. Oh, the wires. They start to get tangled and become a problem.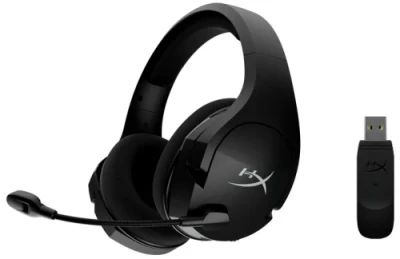 The last pair of wireless gaming headphones I owned was a forerunner to the Logitech G935. They are a fantastic piece of kit, but really heavy as you are wearing all of that wireless electronics on your head.
But like the keyboard, things have moved on. So, I went for a pair of HyperX Cloud Stinger Core Wireless. These are incredibly light, to the point I thought there is no way they'd be any good. But the audio is great. They are not Bluetooth but use a USB dongle, so if that is a showstopper for you, then look elsewhere. Nevertheless, for the cost (I paid just under £40) I think you'd be hard pushed to find better headphones and mic for gaming.
Personal Desktop - Intel 12th Gen i9 12900K, 32GM RAM, 3 x 2 TB M.2 Gen4 NVMe, 2 x 1 TB SSD and TITAN X
Since last year, I've completely overhauled my desktop PC. The issues I blogged about were bothering me. When was it going to just stop working? I just felt the CPU or motherboard were going to be a problem some time in the future.
Technology moves so fast that I had two choices:
Upgrade to what I needed, and then upgrade again in a few years.
Upgrade to the top spec now and give it a few more year's life.
I opted for option 2.
So, I now have a Core i9, 12900K CPU that burst up to 5GHz from the normal 3.2GHz. With 16 cores and 24 threads, it's got enough oomph to get me through most gaming and projects. I've yet to stress it out.
With a new CPU, comes a new motherboard and with that comes new storage options. Previously, I was running Samsung SSD's. But with the decline in the cost of storage and the increase in speed of the M.2 Gen4 slots I now have access to, I bought three 2 TB NVMe drives over the last 6 months: 2 x Crucial P5 and a WD Black. They hold Windows, Games and Linux. I still have the 2 x 1 TB SSD drives, but I don't use them for much currently, so likely to remove them some time soon. No hurry, though.
Craig Porteous [[t]|[b]] said to me recently that I have a storage addiction. He may be right.
Not many changes in the last year but the new PC was a bit one that leaves me in a position of not having to upgrade that in the near future. GPU is likely the next big update. Let's see what happens in 2023!